Understanding Demon Powers
"Some call him a ghost; some say that he is a demon. Some call him a mere mortal."
~Sri Guru Granth Sahib
In order to understand the spiritual realm
in completion, it is vital to understand demon powers. Demons are considered to be
"unclean spirits"
among many. According to the Bible, demons are actually angels that have fallen. In evaluating the scripture of the Bible, it is possible for each of us to gain an understanding of the demon powers that abound in the spiritual realm. When it comes to ancient based spirits, it has been established that demons are considered the most misunderstood. In this guide, you will gain insight on the true power of demons.
Most people are under the impression that demons possess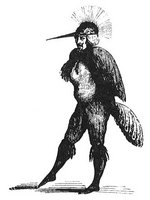 unlimited power and that they are somewhat omnipresent. However, this is simply not the case. According to scripture, the freedom that demons possess is limited and restricted in several ways. The same holds true for the entity that is known as Satan. The restrictions and limitations posed on demons come as a result of the nature that they possess, but according to Job 1:12 in the Bible, it also stems from the power that God has over the demons. While it is true that demons possess knowledge and even self-awareness, they are not at all omnipresent in any form or fashion, nor do they possess power that is considered to be unlimited.
When evaluating the power of demons, it is appropriate to consider the wisdom that these entities possess. According to the scripture in Mark 5:7 in the Bible, demons possess a high level of intellect. In Acts 19:15, we find that they also have supreme levels of knowledge on a variety of subjects. Demons are manipulative and cunning and will gain all the knowledge that is required to influence individuals to their unique will. While they lack the ability to know everything, the things that they do know they know at depth. It is important to understand that demons will typically stop at nothing to achieve the ends in which they desire.
Amazingly, it has been concluded that demons possess the power of emotion and will. This is outlined in the Bible in Matthew 9:31 and Mark 5:7. We also see the ability to experience emotion in demons in James 2:19. The power of will is expressed in the Bible in Matthew 8:31. In addition to these unique demon powers, it is also possible for a demon to speak in one way or another. Demons are considered to be fluent in a variety of languages – both written and verbal. As you can see, there are many unique demon powers. This could be why these entities are believed to have such a strong hold over the secular world.

Return to Demon Powers Top of Page

Return To Demons Main Page

Greatest Unsolved Mysteries Index

Return To Greatest Unsolved Mysteries Home Page