Real UFO Sighting in New Hampshire
by Joel
(New Hampshire - United States)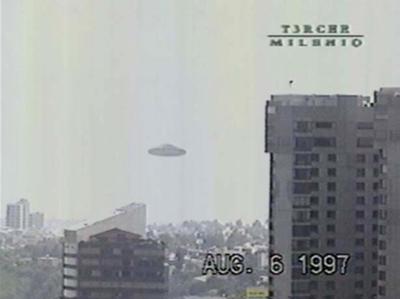 Not The Real UFO Sighting I Had, But What it Looked Like...
I had always heard of UFO encounters, UFO abductions , and other types of UFO information as a kid, but, it wasn't until I was about 13 and living in New Hampshire that I had my own real UFO sighting.


I was heading out of the wooded area where me and my buddy where hanging out. It was a common place for people our age to hang out.
We headed up the hill and had about a half mile to a mile walk back to my house. It was getting dark. We hit the top of the hill and saw a large circular object heading down towards the wooded area we had just come from. We decided to stick around for a few minutes to see what it was.
When it got close enough to really see, it was obvious it wasn't a helicopter or any other hovering thing I've seen. It ended up hovering for a few minutes and then took off. Not a sound at all.
It was actually really scary and we ended up running back to my house. Nobody believed me, but there was no way it was anything else. I've always wondered what would happen if I suddenly remembered being abducted or having any kind of contact. Creepy...
The UFO picture I uploaded is not one I took, but that's what it looked like. I added it with permission from http://alien-ufo-research.com/ufo_pictures_2/